It has never been easier to compare Printful vs Printify in the print-on-demand segment. Thus, we have made sure that all the confusion of the customers gets vanish after reading this article. We have tried to explain each and every detail about the Printful vs Printify comparison here.

Printful vs Printify has been one of the most trending topics for the discussion in the market for a good time now. The sole purpose of this article is to provide the customers with the clarity on which services to go with.
| The Analysis | Printful vs Printify |
| --- | --- |
| Services Offered | T-shirt designing |
| Aim | To clear your confusion |
| Globally Available? | Yes |
| Site | Official Site |
Printful vs Printify Detailed Analysis
When people have their own t-shirt design business, they have to handle everything. Most small businesses and startups don't have more than one or two owners and another employee to do the paperwork. People may need to become designers, printers, marketers, resellers, and even marketers. Now, in this hectic and competitive world, it is quite difficult for a startup to manage everything.
Even a small internship business must be managed with care and consideration. The survival and completion of the new business will depend on a number of factors related to talent as an artist and determination as a salesperson.

In addition to involving a good designer, employees must be aware of the best marketing points for relevant products, get the best prices, and have the most satisfied customers. Of all the POD print-on-demand companies that can help people sell their t-shirts to potential customers, Printful vs Printify are the most common and the most trusted portals.
A quick and easy print-on-demand solution was needed as the business grew and vendors were no longer available. When Davis launched Printful in 2012, Davis decided to solve the problem himself.
Various Factors
We have listed various factors here to give you a clear idea of which company covers a certain factor in the best possible way. Have a read.
The Network
With Printify, users can select any print provider for projects that are purely on quality, location, and on-site experience. People can decide with a supplier near or far from the customer so that the product reaches that customer as quickly as possible.
Printful does not enable users to choose the print provider. When a customer requests a design job, Printful selects the print provider that will manufacture the product and ships it to the customer who requested it. Thus, in terms of network, the Printify network possesses a slight edge here.
As a seller, the brand cannot comment on the quality of the final product because it cannot select reviews directly. Users have the right to choose between the Printful vs Printify brand print-on-demand service segments.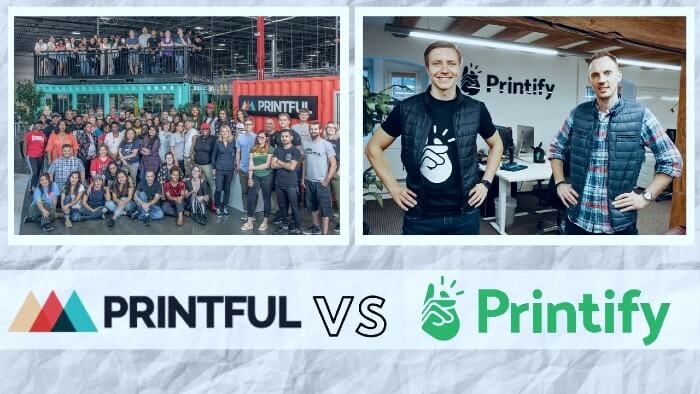 Printful and Printify are a great way for business owners to offer a wide range of new products to customers. Printify offers more than 250 product options. However, unlike Printful, Printify outsources the printing and fulfillment of your order. Look for partners rather than working directly with the brand.
How Is Printify Different?
They don't have a screen printing option (unlike Printful).
Orders are placed in the UK, US, China, Australia, and Europe.
International delivery takes 10-30 days.
Printify is only integrated with Etsy, WooCommerce, and Shopify. While the list is big when it comes to Printful.
Printful vs Printify is two of those PoD companies that are currently extremely popular with customers and T-shirt sellers. When a person is a designer or owns their own t-shirt printing business, it is necessary that they understand the crucial similarities and differences between these two companies.
The Charges
Printful and Printify, both portal can be used without paying a single dollar. But with Printify, you can upgrade your plan to pay up to $ 29 per month after your subscription expires. This option isn't available on Printful because it's free for as long as you want.
This free subscription only applies to Printful vs Printify monthly usage fees. There are nominal fees for some other services you wish to use on the official portal.
The POD (Print-on-Demand) business model has achieved great success in the e-commerce industry and is purely for the startups who are facing some difficulties. Printify and Printful are two primary POD services that enable the users to print personalized items such as bags, hoodies, or T-shirts in a few easy steps. Choosing the right print-on-demand platforms is extremely important to a business owner and to the success of a business.
It is always difficult to judge which of the two best models has the best performance.
The Products
The quality of the product depends, of course, on the print provider that prepares your product. As a seller, Printify enables users to choose their own print provider. You can do this by researching the quality, experience, and reviews of their products.
You can even switch providers if you don't like the product. Printful doesn't give you options, and your customers may have a bad product and can't help but switch to some other trader. Thus, we can say that in terms of quality, the Printify has a slight edge here.
Printify is relatively cheaper than the Printful brand in large formats. With Printify, the cheapest product is close to $ 5.62 while the cheapest Printful shirt is priced at $ 7.95.
Although Printify is close to each other in the product variety stages, more alternatives than Printful are suggested. With Printify, people can choose from 254 products and colors, but only 222 with the Printful brand. Thus, the variety of products available is more in Printify as compared to Printful.
This feature makes it easier for customers to use and select. Ecommerce photogrammetry services are a rare additional printing feature that hardly any other platform offers. This function is suitable for those who appreciate an unusual group of high-resolution images to imagine different people who can choose between Printful and Printify.
On the other hand, Printify also offers some necessary functions. An essential resource is a complete product catalog. However, when it comes to design services, Printify fails because of its users, as its graphic design alternatives are not as extraordinary as Printful. Thus, in terms of product design, the Printful wins the race.